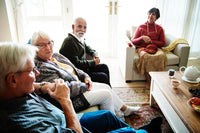 The thought process has been similar to most people. With old age comes a particular fear - not irrational or unnecessary but a feeling of worry and being scared for the self. It doesn't matter how many resources are available. The financial backup that you have does offer security, but it does not entirely do away with the nagging feeling that you are growing old and that things would not be the same ever again.
Why is this feeling so familiar especially amongst those who are heading into their sixties? This is because, from this age group, it is a whole different ball game altogether. The entire mindset slowly starts to revolve around a factor that you cannot control or avoid – the age. While some people start frowning upon turning 40 and 50, a fear factor starts creeping in when some turn sixty.
The focus is more or less on age-related problems such as aches and pain, money and independence, which is a very natural thought process. But the question that we need to ask ourselves is - how much are our decisions going to be affected by what could never happen? Statistics state that we are more often than not worried about what has never happened.
That is one point of view. Let's take the other side. Yes, there are always two sides to a story. And the other one is the happier version of turning 60. It is a version that could make you embrace life as you would have hoped but let slide because of various reasons, other priorities, commitments that you cannot shake. Factors that you have no control over.
Science says that your mind has the power to make you feel happy and healthy if you let it. What you do every day, the little things, the tiny habits; they are the things that can make you a whole different person. Activities that tell you that it is not too late to start anything new. To continue what was left halfway. Learn new ways to look at the world.
The sixties could be the highest years of your life if you only let it. And it is easier than it sounds. Start with baby steps. Learn a new hobby. Connect with old friends. Start a startup. Take a trip. There is no limit to what you can do if you only let it.
You are probably wondering about the fact that it could be physically impossible to do so many things if your body cannot handle that. This is why we recommend another way out. A regular health check delivered to your door to make sure that you are fit to do what you love.
Take a look at what Prayojana can do for you and decide for yourselves, how would you like to spend your quality time.
The sixties could really be the most significant time of your lives.
Comments (1 Response)
Share your Comments & Suggestions (please fill all fields below)
Comments will be approved before showing up.