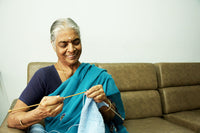 In our previous two blogs, we talked about the importance of eating well and consuming nutritious food to stay healthy. It is, however, a myth that it is only what we eat that plays a role in our well-being.
There is more to life than what we eat to stay healthy. It is in fact proven with statistics that the more you take care of yourselves with little habits, the healthier you will be.
Gentle Walking
This has a magical anti-aging effect. When adults walk (about 1 kilometer or less) regularly for more than 12 weeks, they will achieve the result of correct posture and waist circumference, and the body becomes strong and does not easily tire.
Besides, walking exercise is also beneficial to treat headache, back pain, shoulder pain, etc., and can promote sleep.
Experts believe that a 30-minute walk a day can get rid of the danger of "adult disease". People who take 10,000 steps a day will have a lower chance of developing cardiovascular and cerebrovascular disease.
A Hobby
Having a hobby, whether it is raising flowers, raising birds, collecting stamps, fishing, or painting, singing, playing chess, or travelling, can help the elderly maintain extensive contact with society and nature. This broadens the horizons of interest of the elderly. They will love and cherish life.
Read a Book
Nothing like a good book to transport you to a different world. A book that activates your imagination and cheers you up in unbelievable ways. The elderly especially benefit from a book. This includes reducing stress, improving sleep and sharpening the memory circuits. The more you read, the happier you feel. It makes all the difference in how you reflect on your day.
Good Mood
Old people should maintain good emotions as these are extremely important to their health. Common chronic diseases which affect the elderly are closely related to the negative emotions of the elderly.
Many patients with coronary heart disease have angina and myocardial infarction due to stimulation of adverse feelings, resulting in sudden death.
"Bad" temper leads to high blood pressure. In prolonged and severe cases, this can cause stroke, heart failure, sudden death, etc.
Negative Emotions such as anger, anxiety, and grief can cause blood sugar levels to rise, causing metabolic disorders in the body.
This shows how important it is to have a good mood!
Physical aging is a natural phenomenon, and it is the most sensible choice to devote yourself to life entirely and to live the best of the day!
With Prayojana, you can create a wholesome environment and achieve everything you have ever dreamed of, and have it delivered to your doorstep.
Share your Comments & Suggestions (please fill all fields below)
Comments will be approved before showing up.